hi, i'm rhea!
Here at Rhea DM, I offer bespoke ecommerce and web solutions to help enhance the online presence of your small business.
I know how overwhelming and time-consuming it can be to successfully sell and promote your stuff online without guidance, especially as a small business owner who has a million other things on their plate!
Now you don't have to do it all on your own - I gotchu!
About Me
services
Budget-friendly rates of just $50 per hour!
Back-End Development

Is your storefront looking fantastic but the back-end is a mess? Lessen the load and entrust tasks to me like product uploads, settings and shipping.

Copywriting

Equipped with over 10 years of writing experience, you can expect engaging and flawless pieces to bring that cutting edge to your website.

Website Design

Want your website to stand out from all the rest? Allow me to create an enticing, accessible and beautiful storefront for your business!
Free Consultation

To help hash out what it is your business needs, I offer free one-hour consultations over the phone - no strings attached.

Quick Responses

I pride myself on my timely responses to client communication - the faster the reply, the faster the work is completed!

Former Shopify Rep

As a former Customer Service Rep for Shopify, I offer an expert perspective on how you can better your Shopify store.
client testimonials
Still unsure? Take a look at these wonderful reviews from some recent clients, or check out my portfolio.
Collapsible content
Nanna Bangles

"I met Rhea while both working a 'day job' in retail part-time. Very early on we discussed the option of collaborating on a website for my business. I had previously had a physical premises for my shop, but moving cities had meant I needed to pivot, and find a new way of working.

My previous website had been through a subscription service, where I opted not to pay for the shop module – my website was simply a landing page, with a few pages of text and photos. To begin with, I wasn't ready for the next step but I knew it was a goal for the future, for my business.

A further life change meant that this year would be the right time for me to launch a website shop for my business – I was expecting my first baby!

Rhea and I first agreed on a budget we would stick to, and a timeline for the build. She was very flexible, however, when my baby arrived early and we needed to put the website launch on hold.

Rhea provided me with a checklist of clear tasks that I would need to complete in order to finish the website for my launch. She was very responsive to any and all questions I fired through to her on her social media accounts, and patient with me and my new timeline (I kept shifting the date, based on how much I had (or had not) achieved).

We have set some future goals for the website, that we will work on down the track, but I am very happy with this first iteration of my web shop.

All of my customers have been very impressed with the work Rhea has completed for me. My website is very useable, and I will continue to add stock around my baby's schedule.

Rhea definitely understood my business, my values, and my aesthetic – beyond 'just' delivering me with an out of the box website. I'm very impressed and look forward to working with Rhea in the future."

Livvi - September, 2023
Chasing Sand

"I cannot recommend Rhea enough! She is absolutely amazing at what she does!

Rhea took the time to understand what it was that I wanted and then made it happen and I love the website Rhea has created for me and my small business.

Rhea made the process (which seemed very daunting to me) very smooth and enjoyable; any questions or requests I had Rhea was very fast to communicate with me and implement them.

I cannot thank Rhea enough. I will continue to use Rhea's services as my small business grows."

Racheal - May, 2023
Very Special Tales

"Hiring Rhea to help me set up my Shopify store was my best decision during the set up process. 

I had been stuck for weeks trying to find answers to some of the specific issues I needed to address in my shop. Rhea's extensive in-depth Shopify knowledge meant that she found solutions to my entire store needs and implemented them seamlessly.

Whenever I have doubts or requests, Rhea is fast to respond and even faster to fix or execute.  It has been an absolute pleasure to work with her."

Clara - January, 2023
ready to go?
To help me better understand how Rhea DM can benefit your business, please answer the following questions in the form below:
What does your business do or sell?

What inspired you to start this business?

Do you already have an online presence?

Specifically, what do you need assistance with?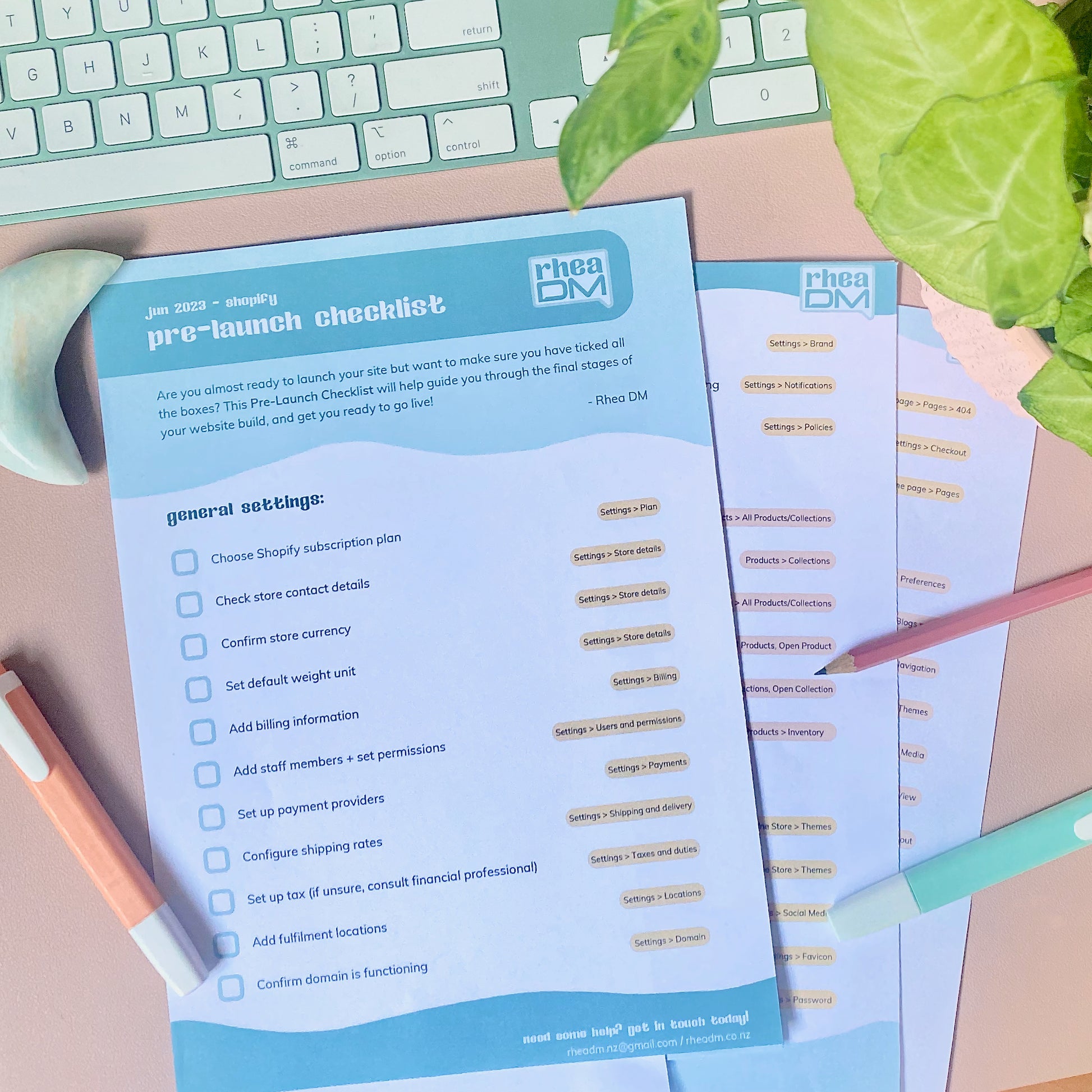 Shopify Pre-Launch Checklist
Regular price
Sale price
$12.00 NZD
Unit price
per
Sale
Sold out
Email Download

Interactive PDF

Admin Guide
Are you almost ready to launch your site but want to make sure you have ticked all the boxes?
This Pre-Launch Checklist will help guide you through the final stages of your website build, and get you ready to go live!
Share
View full details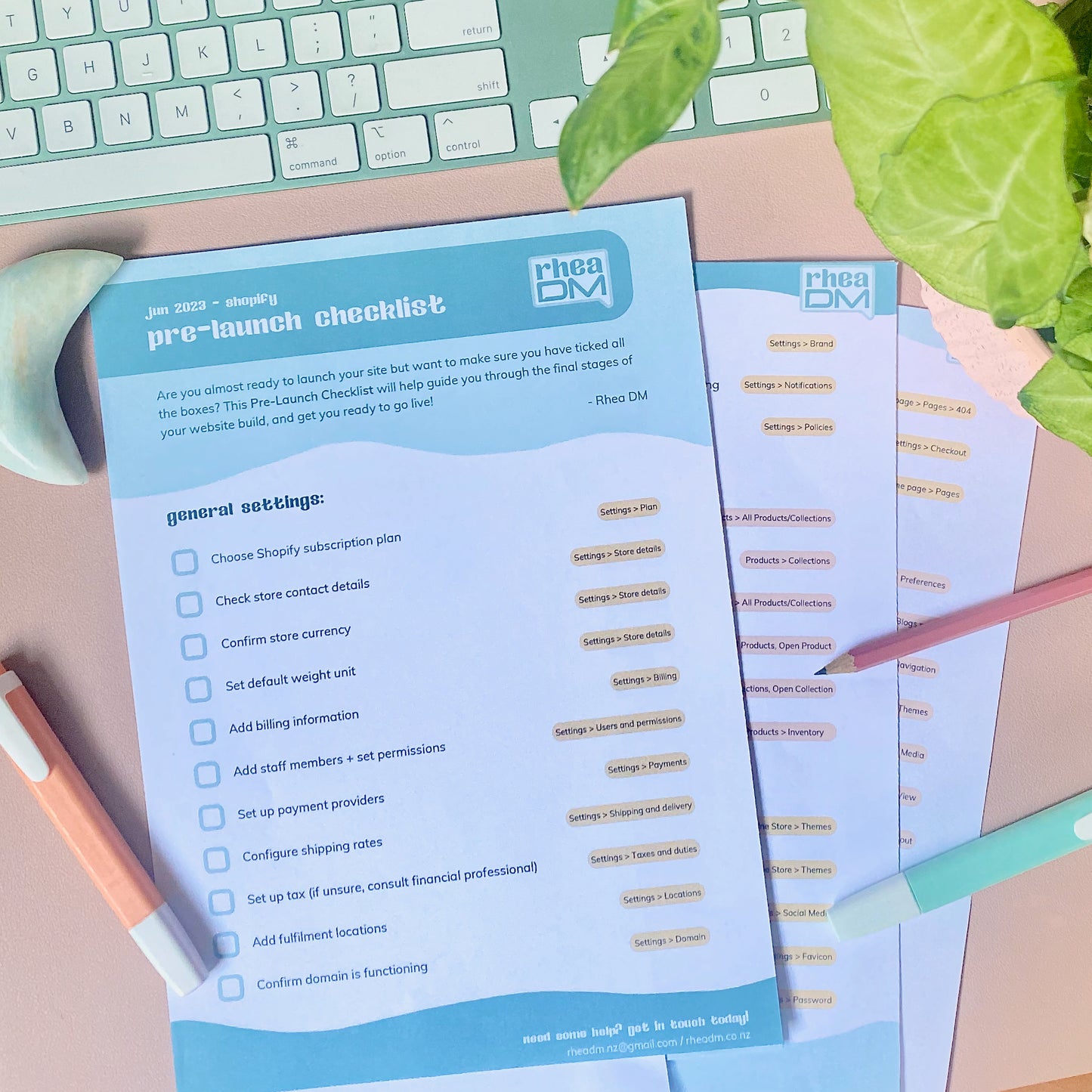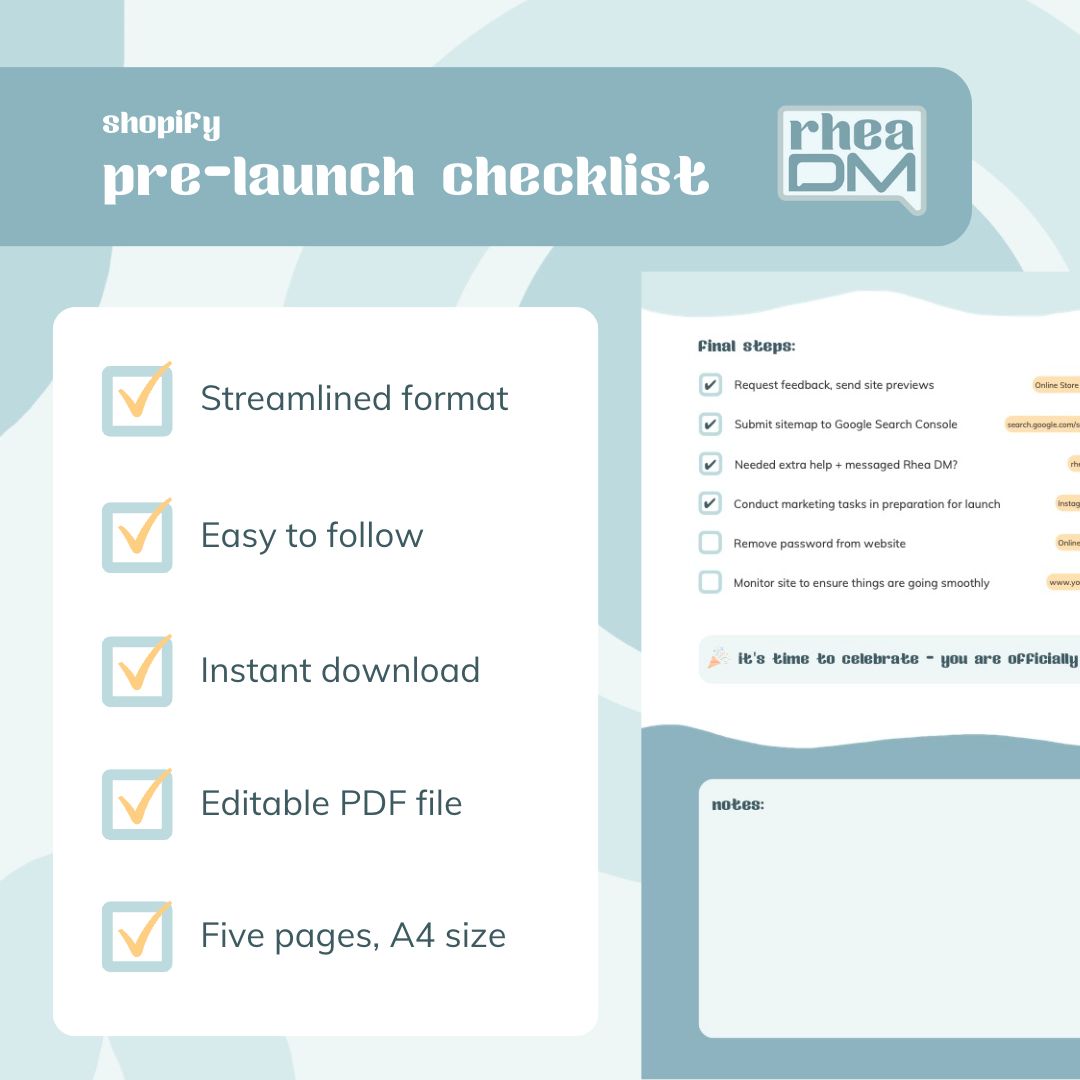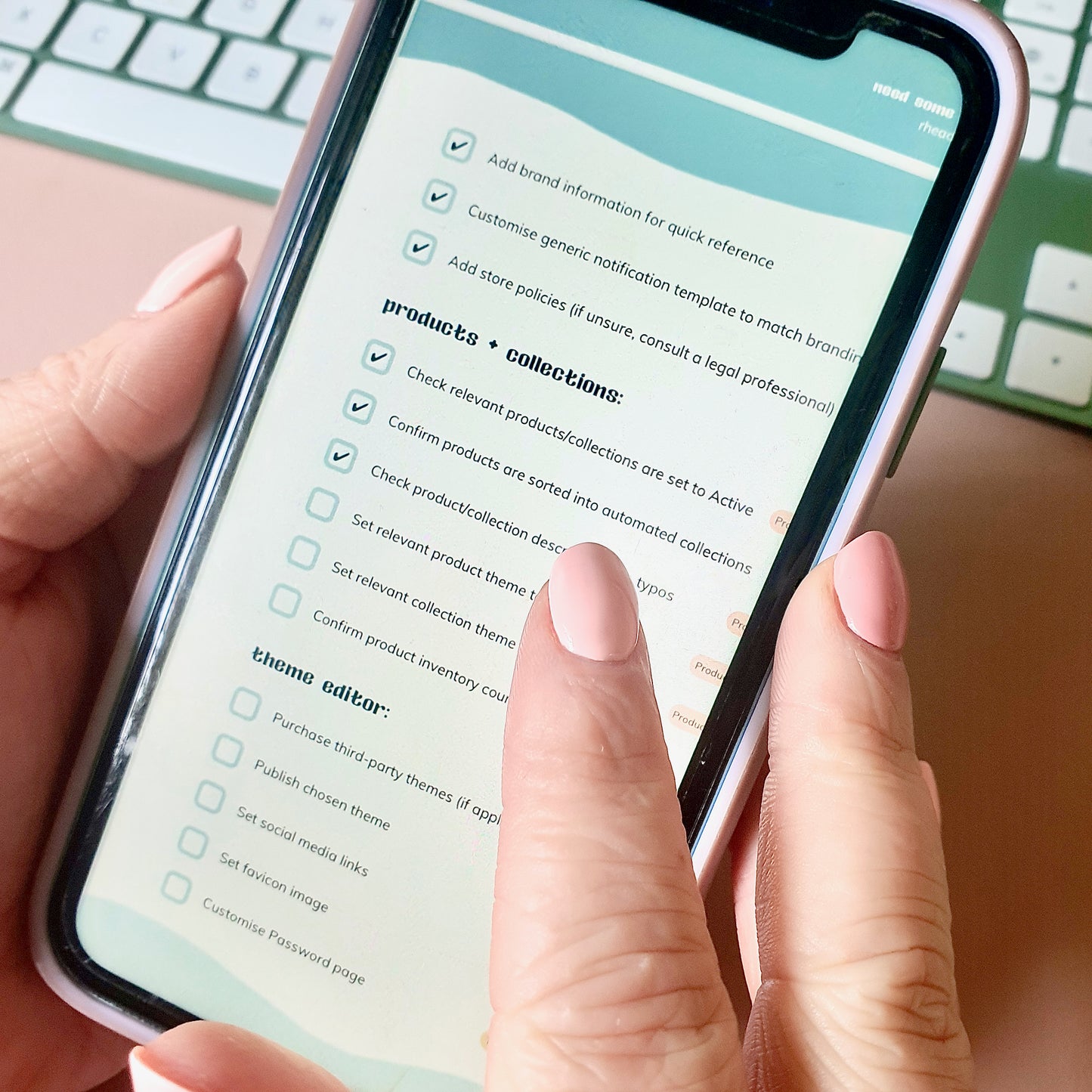 Uh-oh. Have you received a that dreaded notification that one of your customers has opened up a chargeback on an order you painstakingly sent out to them? No need to...

Uh-oh. Have you received a that dreaded notification that one of your customers has opened up a chargeback on an order you painstakingly sent out to them? No need to...